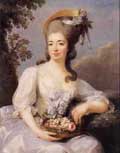 Emilie De Coutances, Marquise De Bec De Lievre - 1778
Oil on Canvas, 97.8 x 79.4 cm, 38.5 x 31.25.in
Emilie de Coutances was the wife of Hilarion-Anne-François-Philippe, marquis de Becdelièvre de Penhoët, premier président de la Chambre des Comptes de Bretagne, living in Paris and in the castle of Penhoët in Bretagne. There is an inscription on the reverse of this canvas which reads - "Marie Emilie / Louise Victoire / de Coutances. Mise de Becdelievre. marie en 1773. Mot en 18." Sold at Sotheby's New York, Oct 94, $36,000.