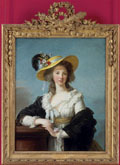 Gabrielle Yolande Claude Martine de Polignac, Duchesse de Polignac - 1782
oil on canvas, 36 x 29 in, 92.2 x 73.3 cm
Versailles
Mme. de Polignac (1749-1793), the wife of the influential Armand Jules Francois Duke de Polignac (1745-1817), was the intimate friend of Marie Antoinette and had charge of the royal children. She was notorious for her extravagance, and was the mistress of the Comte de Vaudreuil. After the fall of the Bastille she was persuaded by Marie Antoinette to flee the country, and died in Vienna, Dec 5, 1793, at the age of 44. Her son, the Prince de Polignac, was later French Ambassador at St. James's. View another version of this painting that appears in the Wadsworth Atheneum, Hartford, Connecticut. See (Art Page 54). View additional information on this portrait.