The Artist: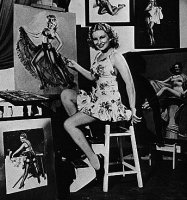 Zoe at work

Zoe Mozert was the most famous female pin up artist. Born in 1907 her real name was Alice Adelaide Moser. She was one of the few female students Howard Pyle took under his wing. Zoe trained as an illustrator as fellow students of Howard Pyle, Maxfield Parish and N.C.Wyeth had. In 1932 she moved to New York and in the following years painted hundreds of magazine covers. Zoe frequently was her own model.
In the late 1930's Mozert also became famous as a movie poster artist. She painted the poster for Carole Lombard's "True Confession", and the Howard Hughes film "The Outlaw" with Jane Russell.
During World War II she painted her most famous series of pictures - Victory Girls.
Zoe Mozert died in Arizona in 1993.