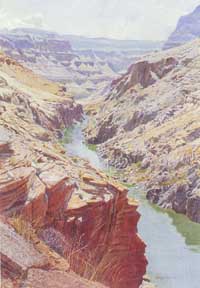 Granite Narrows, 1999
Acrylic, 30 in x 24 in

Characterized by a combination of realism and abstraction, the paintings of Merrill Mahaffey are concerned with the very elements of landscape. Art historian Donald Hagerty put it well when he said that, for Mahaffey, "... rocks are the bones of the earth, and water its spiritual arteries." A native of the Southwest, Mahaffey studied at the California College of Arts and Crafts, Sacramento State University, and Arizona State University. He took his first river trip through Grand Canyon in 1980 and has since made many more. His paintings of Grand Canyon reflect his fascination with the Colorado River. In 1982 he and his wife organized a river trip through Grand Canyon for artists. The resulting paintings were exhibited at the Scottsdale Center for the Arts. Mahaffey also paints scenes of Utah's Canyonlands, Canyon de Chelly, and the Rocky Mountains. He was artist-in-residence in Rocky Mountain National Park in 1989. His paintings are in the collections of the Smithsonian Museum of American Art, the Phoenix Art Museum, the Metropolitan Museum of Art in New York, the Denver Art Museum, and many private corporations.