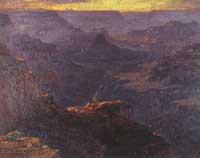 Grand Canyon Scene, 1911
Oil, 15 in x 19.5 in

A native of Ohio, Edward Potthast worked early in his career as apprentice to a lithographer and as an illustrator. He studied art at the McMicken School of Design, now part of the Art Academy of Cincinnati, then traveled to Europe to study painting in Munich, Antwerp, and Paris, where the work of the French Impressionists influenced his style. Moving to New York in 1892, he worked as an illustrator for Harpers magazine. Although assignments for Harpers often sent him west, his first trip to Grand Canyon, in 1910, was sponsored by the Santa Fe Railway. Potthast painted landscapes of the Rocky Mountains, Grand Canyon, and other western scenes. His work was exhibited at the Art Institute of Chicago, the Cincinnati Art Museum, and the Brooklyn Museum. He founded the "Society of Men Who Paint the West."