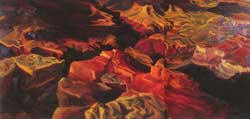 Canyon Rose, 1986
Oil on Linen, 25 in x 55 in

"The vast silence and awe I feel in these places is something I want to share with others; this is a connection we are getting farther away from in our modern lives."

In 1975 Susan Shatter was one of fifty artists chosen by the U.S. Department of the Interior to create landscape paintings for an exhibit in celebration of the nation's bicentennial. Shatter went to Moab, Utah, where she became captivated by the terrain. A native New Yorker, she was attracted to "the natural organic forms created by the forces of destruction and creation" and inspired by those landscapes that revealed their geologic structure. She returned to the Southwest in 1980 to spend time at Grand Canyon, hiking, rafting the Colorado Biver, and painting from the rim. "I thought of the resulting paintings as grand symphonic works." She has exhibited in galleries and museums around the country including the San Francisco Museum of Modern Art, the Corcoran Gallery of Art in Washington, D.C., and the Phoenix Art Museum. Her work is in the permanent collections of the Boston Museum of Fine Arts, the University of Utah Museum, the Art Institute of Chicago, and the Philadelphia Museum of Art.